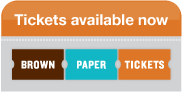 Half and Full Season Tickets are available at any time throughout the year. A Full Season Ticket has 6 punches. A Half Season Tickets has 3 punches. You are free to use the punches as you'd like (for example, you can get a single ticket for 6 shows, or 2 tickets for 3 shows, etc.).
Full Season tickets are $60 for adults, $50 for seniors and students. Half Season tickets are $30 for adults, $25 for seniors and students.  You can purchase season here with your credit card or by sending a check to Stage III Community Theatre, 900 N. Center, Casper, WY 82601.
Your season tickets will be mailed to the address you provide.